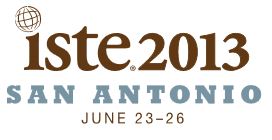 Today I was able to start planning for ISTE 2013. In seven days I'll be flying out to San Antonio to participate in my first ISTE conference. I'm excited about networking with my Special Interest Groups (SIGAdmin and SIGDS), as well as touching base with educators from around the world who I've conversed with digitally for the past several years.
Looking through the conference sessions my plan this year is to focus on the following three larger topics:
Early Childhood Learning (prek-2)
Digital Storytelling
Focusing on needs of all students
Notice: I didn't say ipads, webtools, emerging technologies, Interactive Whiteboards… or any specific technology. Even though some of the sessions are focused on specific tools, I plan on processing on a much bigger level. I've said time and time again in this blog. PURPOSE and LEARNING have to come first, then technology follows.  We can not lose sight of quality first instruction and solid learning pedagogy.  Our teaching craft and pedagogy comes first, no matter what technology we decide to use, our lessons need to be grounded in good teaching and learning.
That's what I'll be focusing on during my ISTE conference.  I'll be tweeting and blogging throughout the conference and most likely afterward about all the wonderful learning ideas I internalize into my own practice.   If you are coming to ISTE 2013 stop by the Open House SIGAdmin table and introduce yourself to me (Sunday,3:00-5:00pm).  If you can't make it to ISTE follow #iste2013 and keep checking my blog for updates.