I have been busy writing my writing digitally series and have neglected any posts on the 365 Challenge.  I am proud to say that I am still going strong on day 191 of the 365 Photo Challenge.  Today when I was uploading to flickr, I noticed that Victeach posted a mosaic of her June photos using Big Huge Labs Mosaic maker.  I love Big Huge Labs and find myself recommending it as a great resource for creating many different image projects, such as motivational posters, mosaics, movie posters, magazine covers, badge makers, calendars, jigsaws and much, much more.
It is easy to use and connects right to your flickr/facebook accounts, or you can upload from your computer. Once you create your project you can save or share your image. With the mosaic maker it even gives you the code to give credit for the images you uploaded from other sources.(see below for mine) You can also add your project to your cart and pay for them to print it out for  you if you'd like.
Here's a mosaic of the last 25 days: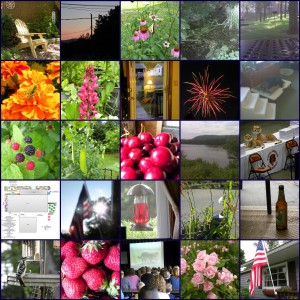 Links to each photo:
1. 191/365/2010: Inviting chair, 2. 188/365/2010: Red sky, 3. 189/365/2010: Tiger Swallowtail, 4. 190/365/2010, 5. 187/365/2010: waiting, 6. 186/365/2010: Grasshopper on Marigolds, 7. 183/365/2010: Lupine, 8. 184/365/2010: New front screen door, 9. 185/365/2010, 10. 182/365/2010: skippy relaxing, 11. 181/365/2010: Black Raspberries, 12. 180/365/2010: snap peas ready to harvest, 13. 178/365/2010: Bowl of cherries, 14. 179/365/2010: Walk by the river, 15. 177/365/2010: Tiger Graduation, 16. 173/365/2010: Landscaping, 17. 174/365/2010, 18. 176/365/2010: Where are the hummingbirds?, 19. 175/365/2010: Goldfinch, 20. 172/365/2010, 21. 171/365/2010: young Hairy Woodpecker, 22. 170/365/2010: Strawberries!, 23. 169/365/2010: Endangered Species Presentation, 24. 168/365/2010: Roses, 25. 166/365/2010: Flag day
So, click away, save your images and go to Big Huge Labs to have fun with them!