This blog is administered by Dodie Ainslie, Instructional Technology Support Specialist for Broome-Tioga BOCES. My goal is for teachers and administrators to collaborate on how they are using technology to increase student thinking and learning.
Currently my focus will be supporting teachers in two districts, helping teachers integrate technology to enhance learning in their classrooms. Digital Citizenship is also my passion specifically cultivating a community of good citizens both in our physical communities and our virtual ones. My blog has blossomed as I have as a leader. For that reason I have expanded my themes to include posts on being a leader in this turbulent educational environment of testing and accountability. My hope is that great teachers and leaders don't lose their passion for teaching and helping their students be everything they can be.
In 2011 I worked with fellow educators across the world to organize the Global Education Conference.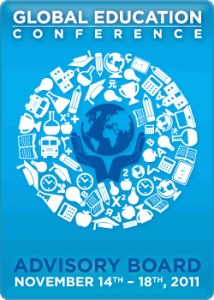 In 2012 I was elected to be the Communications Coordinator for ISTE SIGadmin and served until 2014. In the Summer of 2014 I became a Google Certified Educator and December 2015 I became a Google Certified Trainer.  I am an educator by choice and am passionate about student learning. My classroom teaching experience includes 3rd, 4th and 6th grades. I have mentored and coached teachers pre-k through 12th grade.
This blog is purely my own beliefs and ideas of education therefore the ideas presented here are not necessarily the ideas of my employer.
To find me, check-out the following:
twitter- djainslie
diigo- djainslie
flickr –djainslie
Facebook page- djainslie
My PLN Research Video can be viewed at Youtube:

Frontpage header: First Light Copyright sscorpio (downloaded from 'free webpage headers')
http://www.freewebpageheaders.com/gallery/
This website is licensed through


https://www.djainslietech.com/ by Dodie Ainslie is licensed under a Creative Commons Attribution 3.0 United States License.
2010 365 Challenge:
Get the flash player here: http://www.adobe.com/flashplayer