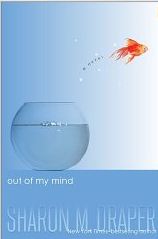 I taught an introduction workshop last spring on assistive technology for our special education teachers.  After the workshop one of our teachers told me about this book Out of my Mind by Sharon M. Draper.  This book is a must read for all educators, leaders, parents and students. It is an incredible view inside the amazing mind and heart of a young girl who has Cerebral Palsy.
I can see why the book was recommended to me, especially after the assistive technology workshop.  One of the major turning points of this book is when Melody discovers an augmented communication device called a medi-talker she names Elvira (after her favorite song). Through this assistive technology device she is now able to communicate to her family, and friends, and show them that she is much more than a girl in a wheelchair.
Certainly this book validated the love and dedication I have for helping all students celebrate their similarities and differences.  It also reinforced my feeling that the building and classroom climate is key to learning for all. We, as educators, can't take anything for granted. We need to continue to take time to build a climate where we respect all, celebrate our differences, support each other, and strive to understand one another. As the lead facilitator in the building and/or classroom educators need to model these components of a safe and caring climate. "Actions speak louder than words." This statement is very true. Our students, and staff look to us as leaders to be a part of this climate and show, through our actions and communication, that we value all– and want all to succeed.
I highly recommend you read this book and share this book with others. Read it as a building, discuss the themes and then ask yourself: would the series of events that happened in this book happen in your building/classroom?  Hopefully this will transfer the discussion from the book to your building and ways you can create a climate of learning and caring for ALL.
Anyone else out there read this book?  What did you take away from it?