Three weeks ago I was fortunate to attend a workshop on Infographics presented by Kathy Schrock(@kathyschrock). As expected it involved great information and time to experience creating an infographic as a student would.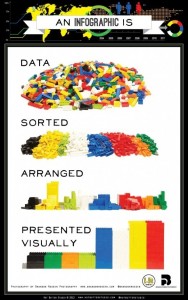 Creating an infographic can be a powerful experience for students. It requires many of the 'essential' skills needed to be successful in the 21st century. As I was working through the process with my group we had to:
Interpret  and analyze a data set
Evaluate what the most important concept was within the data and articulate that in a question
Determine the best way to present the concept (visually and accurately)
Select the best webapp to create the infographic in
Evaluate images that fit the concept, determine how to best use them in the graphic and make sure to collect needed citation information
Work with a group to efficiently do all of the above in a limited time period (we had 1 1/2 hour to complete the entire project from being handed data to posting and presenting our finished infographic).
Of course we would have liked more time, we found out that it takes a lot of planning and thinking to complete this project. We did finish with a 'bare bones' infographic but it was a powerful experience. It was interesting because it has been a while since I had been in a student's seat, learning something and being expected to produce a product showing what I learned. The last 30 minutes was stressful, we were under a strict deadline. But we did it. As an educator it is important to see projects as a student would, then you can better plan how to best scaffold the experience.
So, why use infographics?
Infographics are a great way to have students present evidence of their learning.  It also allows them to grapple with data and present that data in an informative creative way. I like it because it combines logical processes (data) with creative graphic processes to create a visually pleasing graphic representation of the data. It brings different skills together, allowing students to work together and bring in their strengths. In our group the first thing we did was select our roles based on what we were good at. That allowed us to break up the work and then bring it together to create one infographic.
How can I get started using infographics?
My advice is not to be overwhelmed by the scope of using and creating infographics in your classroom. Yes there is a lot of information out there. Like anything new… chunk the information and start out simple.
Start using infographics in your teaching (exposing students to examples of infographics).  This also fits great with UDL and multiple means of representation…
Give students data related to a concept they are learning and have them practice determining what is the most important point of the data. What is the data telling you? What would be the main question it is answering?
Select an easy tool that they already use the first time they are asked to create an infographic. If you have GAFE, have them use google drawing. If they have used Glogster before have them use that.  Students could even use PowerPoint as the tool. Remember the tool doesn't matter, it is the learning and with infographics it just needs to be a tool that allows students to create a graphical representation using images and text. Start with a tool they know, then branch out.
Critique: don't forget to have students critique infographics from the web and their peers. What makes the great ones great? What could be added or modified with ones that are hard to follow? Teaching students to critique respectfully allows everyone to improve their craft.
If you scaffold the process like above students will eventually be able to gather their own data, evaluate that data and create their own infographics using a tool of their own choice.  Start simple, but think big!  That is the potential of using infographics.
Resources: (Check these out to get started, or continue on your journey with infographics…)
What are infographics (nice overview with key information to start)
Kathy Schrock's Infographic Resources