As I continue to explore assistive technology devices I decided to focus on digital pens.  The pen that you need depends on the purpose you need it for.  I have created a comparison of six digital pens on my wiki page 'Digital Pens Compared'. The purposes that most use a digital pen for are:
Scanning and converting handwritten notes to digital text so it can be stored and searched for easy retrieval
Scanning and reading text  for those who might be having difficulties in reading
Recording what you write and hear (say during a lecture for instance)
As you can see from my comparison chart Livescribe pens have the most functionality, basically fulfilling all of the purposes above.  On a downside though you have to use specific paper for these pens. If your only purpose is to convert your handwritten notes, many of the other pens do that and since they use the same software probably all would be comparable.  If your specific purpose is only to read (and look up unknown words using a built in dictionary) then the Reading Pen is the one for you.
Why use a Digital Pen? Personally I am faster at keyboarding then hand-writing, so if this is you then probably getting a tablet with a bluetooth keyboard would get your notes into a digital format just as easy. Some students might feel self-conscious with a note-taking device (tablet, netbook, alpha-smart, fusion…). For them I could see a digital pen as being a possibility, and probably less conspicuous.   Unfortunately some of the reason students need a note-taking device is because their handwriting is hard to read.  If the handwriting is too hard to read, it probably will be too hard for the digital pen to interpret as well.
If the teacher agrees to being recorded I do see digital pens being great for students who have difficulty writing their notes, and listening to lectures. With a Livescribe pen you could do both at the same time, download your notes and the audio of the lecture into the computer and use them to study from. I can think of some of my professors in college that I would have loved to have this for.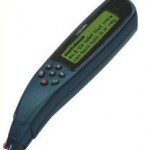 The Reading Pen would be great for students who need a text to speech conversion on every day text, ie chapter books, tests, and/or other school handouts. The pens are pricey, but I'm thinking about getting some to assist in testing modifications. If a student has 'read test' on their IEP, why not give them a Reading Pen with earphones and have them use it right in their classroom, taking the test while everyone else does and not needing to have the test read during a separate class period. The Reading Pen does have a dictionary feature, but if you are concerned about students using it during a test, you can turn that feature off and password protect it.
As an assistive technology device, digital pens do have their purpose, and for those who need them they can bring great learning success.
Check out @terryfreedman's post Digital Invisible Ink for more on the Livescribe pen. Or check out 8 Reasons Why Livescribe is the Best Tool for Taking Digital Notes.
If you have experience using a digital pen please comment below, we'd love to hear from you.