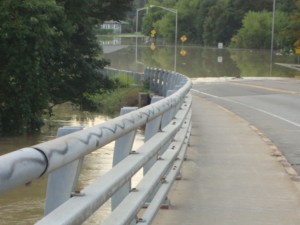 As we are dealing with historical flooding here in New York State, I continue to be amazed at the power of social media.  The rivers have risen fast and by last Wednesday afternoon major flooding was occurring.  All schools in our county were closed Thursday and Friday, and we are still unsure of when the flooding will recede and allow us to start cleanup and getting back to "normal".
Through all of this many of us in the school community, as well as the larger community, have stayed in touch through facebook and other social media. Even those without power have been able to post through their cellphones.  Those who have been evacuated from their homes are able to ask others about their areas and the condition of their homes. I am truly amazed at all the community support and assistance that is being given.  People asking about routes to take, others volunteering updates on water levels or assistance with cleanup, or gathering supplies for shelters and those landlocked in their homes and unable to get out. I even saw someone volunteering their boat to get needed supplies to those trapped. During the last three days there have been countless examples of people connecting with others for every kind of need you can imagine and they are all connecting through social media.
As educators and members of our communities we need to be involved in social media.  We need to let our lawmakers and district administrators know the importance of being an active member of our districts and communities, both in person and digitally. When I read about districts and states restricting the use of social media in their communities it makes me cringe.  If the issue is improper communication between educators and students, then deal with that issue. Social media is not the problem, the improper adults are the problem.  As educators let's educate our staff and students as to the proper, professional way to use social media instead of banning it.
During the last couple of days here, I believe more and more we need to have a presence on facebook. District and building administrators need to use this media to help keep parents informed, whether it be announcements, celebrations, or emergency updates. Administrators: If you don't have an official facebook page for your building, create one.  We have a building starting with a parent's page and it has had great support so far.  Parents appreciate it and it gives the principal an easy way to get information out to the parents that have 'liked' the page. She has it set up so she is the only person who posts to the page, and monitors the comments made.  I believe every principal should have, at the least, a parents' facebook page for their building.
Let's continue to celebrate the power of social media and show our administrators the positive benefits of this highly valuable communication tool.