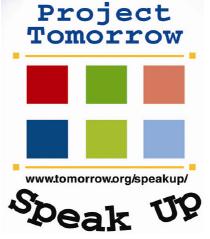 I just read the new companion report for Speak Up 2010:  'The 3 Es of Education: Enabled, Engaged, Empowered: How Today's Students Are Leveraging Emerging Technologies for Learning' (Project Learning, 2011). If you have some time it is definitely worth a read.
In this report we provided a snapshot of the views of today's students around three key trends, mobile learning, online and blended learning and e-textbooks, and how students, if they were in charge, would envision their ultimate school.
Some not so surprising results here:
Mobile Learning:
Cellphones (and smartphones) access have increased 42% in middle and high school students from 2009-2010.(maybe more surprising, this data didn't differ much with type of community or poverty level)
Students see the potential to use their devices to: conduct anytime research, communicate in order to collaborate, and create/share documents/files/videos/podcasts.
The largest obstacles students say they face? Not being able to use their cellphones.
65% of principals said 'no way' to allowing students to BYOD (bring your own device) while a large percentage of parents supported this idea (70% of  high school parents said they would even buy their child a device to use at school).
Online/Blended Learning:
Students' top benefits of online learning were: scheduling, control of learning, work at own pace, college credit, review class materials, and easier to succeed.
Many high school students said they are already leveraging social networks to collaborate with classmates on projects.
e-Textbooks:
Many benefits were mentioned by all stakeholders, these included: reduced cost, less weight in backpacks, and being able to have more up to date textbooks available to students.
Students see e-textbooks being more interactive and engaging than the traditional textbooks.
The biggest obstacle students see to any online or digital technology use in schools are the filters and firewalls.
The report also addressed a new trend, that of parental digital choice:
In short, parents want their local schools to leverage technology to create personalized learning experiences for their child in the same way that Netflix® has personalized their home movie watching experiences.
I say kudos to parents for wanting the best education and opportunities for their children. After all students do not learn the same, they need personalized learning experiences. Technology is a great way to facilitate these experiences inside, and outside of school. So what does this new enabled, engaged, and empowered classroom look like? Here is a vision:
Within the enabled, engaged and empowered learning scenario, students have access to a rich and varied set of digital tools and resources that provide them with gateways to new learning experiences that are not bound by their classroom walls or even the boundary lines of their town or city; the world is now their school.
This ability to learn how to effectively leverage a wide range of technology tools and services to drive one's own educational destiny empowers our students for a new world where as, Toffler states "it will be more important to learn how to unlearn and relearn than to learn." In short, our students will be enabled, engaged and empowered not only for learning, but for their future. – page 14 of report
Are you preparing your students for their future? Do they feel enabled? Are they engaged? And do they feel empowered in their own learning?