On December 26, 2009 I challenged my PLN to take a survey about the amount of time they spent interacting with their PLN, the make-up of, tools used, and why they felt their PLN was important to them.  Since then, and many tweets and retweets later, I received 102 responses to the survey. Here is a summary of the results:
Time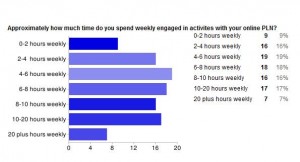 It is obvious that we are a very diverse group, and that certainly showed in the amount of time we spend interacting with our PLN. This is one of the questions I plan to address in a future post.
Local or Global PLN?
For this question local was set as within a 200 mile/321 km radius, while global was considered further than 200 miles/321 km. Not surprisingly most answered that they had a 75-90% global PLN. That is one of the themes that appeared in the comments over and over; the notion that PLNs allow us to be better because it exposes us to people from all over the world that have unique ideas and expertise. People that we wouldn't have otherwise interacted with.
Allows 24/7 access to some of the smartest and helpful educators in the world!
It has created a global collaborative group for me.  I have gained so many insights, tips, advice, professional development, etc.  It has been the single greatest personal development of my teaching career.
What is the first word that comes to mind when you think of your PLN?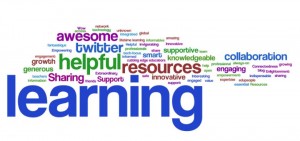 I couldn't have said it better: Awesome, helpful resources that are shared on twitter lead to major LEARNING.
Not a surprise, considering the PLN I communicated the survey to were on twitter… but does show the top PLN tools are twitter, blogs, email, and wikis.
Why is your PLN important to you?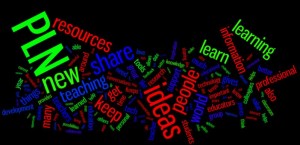 Here are a few of the comments:
My pln is the group of colleagues I wish I had in the halls of my school. I learn from my pln every day, I am inspired by my pln. I love being involved with a group of educators that want to make life better for their students.
I learn more in one hour from my PLN than I have ever learned at any conference!
Helps me to expand my understanding, provides inspiration, share my knowledge with others, identify new possibilities.
My PLN is important because it opens my world and my mind to new people, new ideas, and new experiences.
Keeps me sane by allowing me to interact with like-minded, tech-focused educators
It is my fire hose of information. I couldn't possibly find all the resources that pour in from the PLN. It helps me quickly find what I am looking for and more importantly, what I didn't realize I was looking for.
It has challenged me to do more, get better all of the time. My students are better off because of my PLN.
I would remain in a "box" if I did not have my PLN.
It gives me the support I need to venture into unknown waters.
Thanks to everyone who completed the survey, tweeted, and retweeted the survey.  It is obvious that those of us who value our PLN are not alone.  We are not crazy, or addicted, and we DO HAVE A LIFE.  From the survey it is clear that we have a very fulfilling life, one filled with others who share our beliefs, expand our thinking, and allow us to grow, everyday, 24/7.
Google Spreadsheet of results (and summary)

Full results (viewed as webpage)